This is one case from a series of reports compiled as part of an investigation into photo-kerato-conjunctivitis, possibly occurring as a result of excessive low-wavelength UVB radiation under certain brands of fluorescent UVB lamp.
Please do not view this one case without reference to the whole report of which it is a part.
Case History : FC2 (Italy) - Bearded dragon juveniles (Pogona vitticeps)
Cases examined by Michele Buono DVM (Turin, Italy)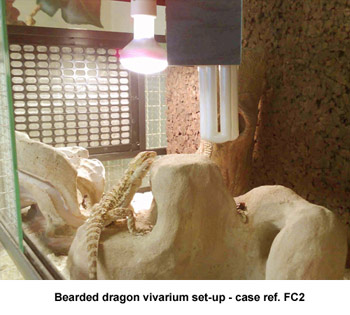 Two juvenile red-phase bearded dragons (Pogona vitticeps), purchased in June 2007, had been placed in a new glass terrarium, size 100cm by 60cm by 60cm. (39in by 24in by 24in.) The substrate was ZooMed ReptiSand.
A large basking rock was placed between a basking spot lamp and a new ZooMed Reptisun 10.0 Compact Lamp in a reflector fixture. The rock was very close to the fixture, so the distance from the basking spot to the lamp was less than 15cm. (6 in.) (Figure 1.)
The animals were presented to the veterinary clinic after 7 days, as they had become anorexic, inactive, and kept their eyes closed.
At clinical examination the only symptom was closure of the eyes, with a light swelling of the lower eyelids. No therapy was suggested except the replacement of the lamp with a ZooMed Reptisun 5.0 Compact Lamp and moving and lowering the basking spot to a distance of 30cm from the compact lamp.
After 5 days the eyelid swelling had disappeared and after 10 days the animals were active and eating again.