Vitamin D and Ultraviolet Light - a remarkable process
The way in which many vertebrates utilise sunlight in the production of vitamin D3 in the skin, and how this process is also regulated by the light itself, is still the subject of much research. Most of the studies relate to human biology, but researchers such as Holick, Ferguson and Gehrmann in the United States are gathering evidence that the process is very similar in reptile skin.9,14,15,16,24
A simplified animated diagram (Figure 1, below) illustrates the vitamin D pathway.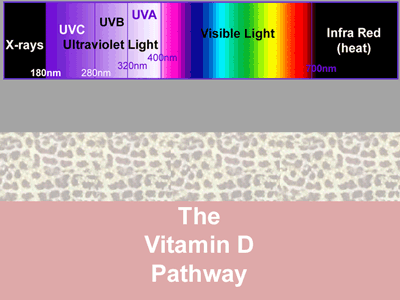 The pathway begins when a cholesterol, provitamin D, (full name 7-dehydrocholesterol, or 7DHC) is manufactured by cells in the skin. When exposed to UVB at wavelengths between 290 - 315nm, this provitamin D, held within the cell membrane, is converted very rapidly indeed to previtamin D3. The peak production is at 297nm.34
Previtamin D3 is then isomerised (transformed by a re-arrangement of atoms in the molecule) slowly, in warm skin, over several hours, to vitamin D3. Warmth is needed for the reaction to proceed at a normal rate. Reptiles obtain this heat from the sun, as they bask.
The vitamin D3 is released from the skin cell membranes and is taken up by a "vitamin D-binding protein" into the plasma. It is thus carried in the bloodstream from the skin to the liver, where it is hydroxylated to calcediol, 25-hydroxy-vitamin D3. This is the substance which is tested for in blood samples taken to assess the reptile's vitamin D status.1,20,27
Calcediol is then circulated in the bloodstream all around the body. In the kidneys, some is converted to the active hormone calcetriol. This plays a major part in calcium metabolism, governing the levels of calcium in the blood by controlling absorption of calcium from the gut and also from the bones, should dietary levels be inadequate for the body's needs.23
Calcediol has also, in recent years, been found to play a vital part in the normal functioning of other organs. It is taken up by cells throughout the body, and converted intracellularly to calcetriol. This local action has beneficial effects upon the immune system, the cardiovascular system, and in preventing cells in many organs from becoming cancerous by controlling cell division.22,23
There is also new evidence that skin cells in sunlight can actually complete the entire pathway from provitamin D to calcetriol intracellularly, which may increase the skin's resistance to cancer.29,30
Calcediol, in humans, has a half-life of about two weeks in the bloodstream. In some reptiles, this circulating calcediol may act as the body's main store of vitamin D. 3
Vitamin D3 does not remain in high concentrations in the bloodstream. In humans, that which is not hydroxylated to calcediol in the liver is taken up into body fat, where it is apparently stored 23 but we are not aware of any studies ascertaining whether such storage takes place in reptiles, or if it does, how long such a store might last.