UV GUIDE UK
Advances in Reptile Lighting
A resource for all reptile keepers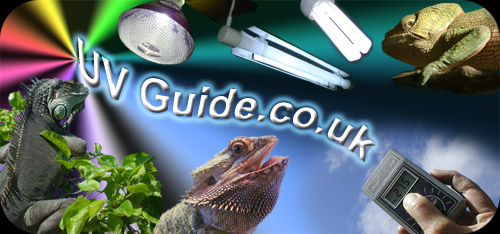 Welcome
to the website of a small team of reptile keepers
researching the use of ultraviolet light in reptile husbandry

Read our introduction to find out why many reptiles need ultraviolet light




Special Report : Eye problems with some high UVB fluorescent compact lamps and tubes

Please read our report first published 14 years ago in 2007, but still relevant, concerning hazardous UVB output from several brands of high-output UVB fluorescent lamps. This can cause eye problems (photo-kerato-conjunctivitis) and ill health in some pet reptiles.
If your reptile has recently had a new lamp fitted, and now seems unwilling to open its eyes then this information could be vital - some "problem" lamps may still be out there..
Website News :
We still hope to update this old website eventually.
It is 16 years since we first launched UV Guide UK. We never expected it to be so popular - to date (November 2021) we have had over 320,000 visitors, from an astonishing 185 countries worldwide!
Since 2005, however, there have been some fascinating advances in our knowledge and we have tested many new lamps.
We also have learned much about the UV Index, why it is really useful in reptile and amphibian husbandry, and how using a UV Index meter can help with re-creating a more natural photo-habitat and safer positioning of UV lamps in the vivarium.
A full update of all test results is now essential.
Please bear with us as we have closed sections of the website completely, but we have left sections that are still relevant today.
For more up-to-date information, please join our Facebook Group, REPTILE LIGHTING"
Disclaimer
We wish to make it clear that it is not our intention to promote or "recommend" any of the products that we have tested. We are completely independent from all companies producing reptile lamps or related products. We accept no sponsorship from them. We do not promote or sell any products, either.
We are merely reporting the results of our tests, so that you, the reptile keeper, may learn more about the wide range of products now available.
Although we have done our best to research, and report upon, the UV requirements of different species we are not able to make specific recommendations about which type or brand of lamp would be most suitable for a particular set-up. We hope that you will find our reports useful in deciding for yourself which product seems most suitable for your reptile and your vivarium.
All the recordings reported here were made by the authors themselves unless specified otherwise. We would encourage UVB meter owners to repeat our tests on their own lamps and confirm our results.
Please understand that we are hobbyists. We are NOT experts. We present our information in good faith; our conclusions are based upon our own observations and our understanding of the work of others. Like everyone else, we do make mistakes. Although our information is correct to the best of our knowledge, we would be grateful to have your feedback if you believe any details on our website to be incorrect or misleading.
Copyright details
All the text, graphics, photographs, graphs and charts on this website are the property of the authors, and are fully copyrighted.
All rights reserved. Apart from any fair dealing for the purpose of private study, research, criticism or review as permitted under the Copyright Act 1956, no part of this work may be reproduced, stored in a retrieval system, or be transmitted in any form by any means, electronic, mechanical, photocopying, recording or otherwise without our prior written permission as copyright owners.
You are welcome to link to this site. Please contact us with details of your website link.
If you wish to copy and upload any material from this site onto another website, or print it in any format (ie., a magazine, journal or handout) you must contact us and obtain written permission. Copyright infringement is a criminal offence; but asking for permission isn't terribly difficult and we'll most likely say "yes"...
© 2021 UVGuide.co.uk