This is one case from a series of reports compiled as part of an investigation into photo-kerato-conjunctivitis, possibly occurring as a result of excessive low-wavelength UVB radiation under certain brands of fluorescent UVB lamp.
Please do not view this one case without reference to the whole report of which it is a part.
Case History : GB (Italy) - Veiled Chameleon (Chamaeleo calyptratus)
Case examined by Michele Buono DVM (Turin, Italy)
A female Veiled Chameleon (Chamaeleo calyptratus) was presented to the veterinary clinic in July 2007 for anorexia and reluctance to move.
The chameleon was housed in a glass terrarium, size 60cm by 100cm by 60cm (24in by 39in by 24in); inside there were branches for climbing, and a plastic rock waterfall. There was a UVB fluorescent tube, but this was outside of the glass.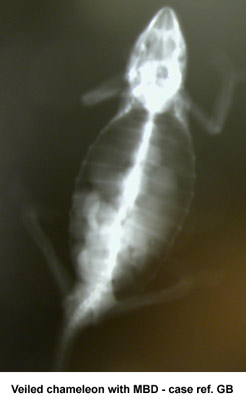 On clinical examination, the animal had a severe metabolic bone disorder (MBD) and x-rays showed a large number of eggs. (Figure 1.)
Therapy was begun with oral calcium borogluconate with dextrose (ATI) at a dosage of 100mg/kg and oral calcediol (25-hydroxy-vitamin D3, 1.5mg/10ml) (Didrogyl, Bruno farmaceutici SpA) at a dosage of 200IU/kg every week.
A new ZooMed Reptisun 10.0 Compact Lamp was installed inside the terrarium and switched on for 12 hours a day. This was positioned at about 15cm (6in) from the animal.
After 3 days the chameleon closed its eyes and spent all the day unmoving on a branch.
The owner was advised to replace the lamp with a ZooMed Reptisun 5.0 Compact Lamp and reduce the exposure to 6 hours a day.
After this change, the chameleon opened its eyes again and after 15 days of therapy, it began to eat again.
Two months after first presentation, the chameleon was re-examined. Its eyes were normal. Its condition had improved; it was able to walk, although with some deviation of the hind limbs, and x-rays showed an apparent improvement in bone mineralisation.